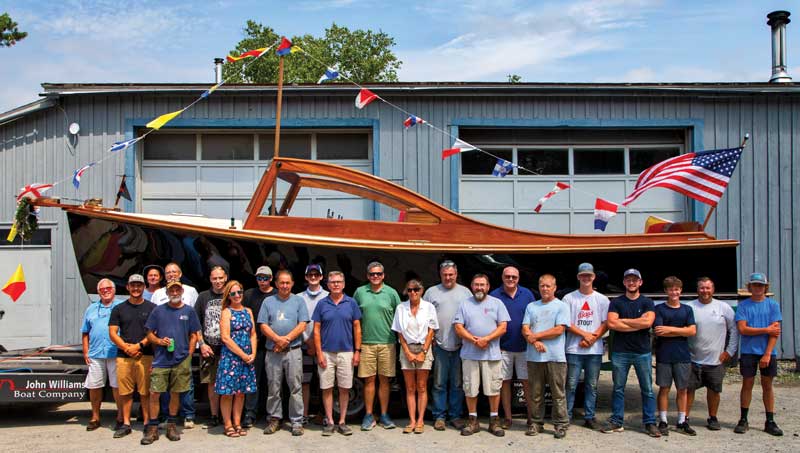 Happy Anniversary!
In 1973, Jock Wiliams launched the John Williams Boat Company. Fifty years later – in the same location where it started at the abandoned Hall Quarry on Mount Desert Island – JWBoatCo has built hundreds of boats, and serviced, stored, brokered, and launched many hundreds more.
Over the years, Jock has built a solid reputation for quality and exceptional service, and the many relationships he forged have laid the groundwork for our continued success. We are proud to be family-owned and continue to provide top-notch service for all of our clients and visitors – but mostly, we are endlessly thankful for Jock's unwavering support for all of his crew and our community throughout the decades.
A recent article in SOUNDINGS, "A Charmed Boating Life"  is a wonderful tribute to Jock and our talented team and shares the history of JWBoatCo while featuring our latest new build, Sea Shepherds, a Williams 28 Bass Boat. Sea Shepherds was also highlighted in an article in the December 2022 issue of Maine Boats Homes & Harbors, which gives more detail on the boat itself. We hope you'll take the time to enjoy both articles! To view photos of the construction, launch and running shots of Sea Shepherds, be sure to check out our Recent Projects page.
Brokerage News
Are you ready for the boating season? We have an impressive assortment of Downeast style yachts currently listed for sale in addition to a fine selection of classic dinghies. We would love to help you select the perfect vessel, so contact Jaime today and we'll get you on the water this spring!
GUMPTION is a beautiful 2007 Stanley 36 with teak cabin sides and pilot house. No expense was spared, down to the varnished teak electronics housing and butterfly hatch. Professionally maintained, this boat is immaculate and in Bristol condition. Mechanically she is powered by a Yanmar 440 diesel with power steering, Mastervolt Whisper Jet generator and a full complement of systems and electronics. Recent improvements include new hull Awlgrip, Sitka spruce mast, cushions and canvas. GUMPTION is a rare example of beautiful traditional looks with modern systems on the inside.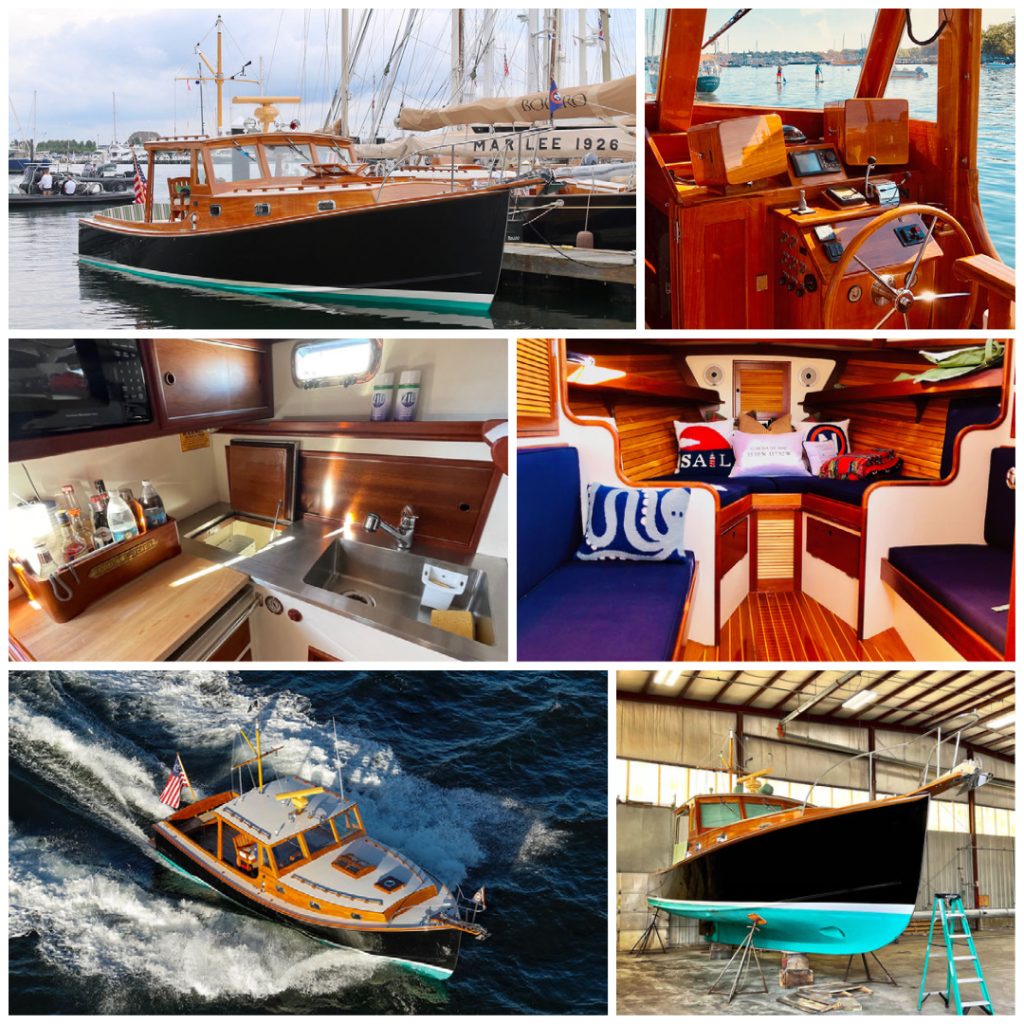 NEW LISTING COMING SOON!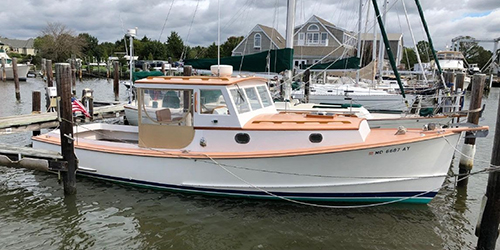 This 1981 Jarvis Newman 32 is one of the finest traditional 32' Downeast style cruisers on the market today. Originally finished at the James Rich Boatyard in West Tremont, Maine, her current owner has made some nice improvements below in the cabin and galley. Contact us for more details.
DINGHIES, DINGHIES!
We have several well-maintained dinghies looking for new homes. These are all rare, one-of-a-kind, and built in Maine.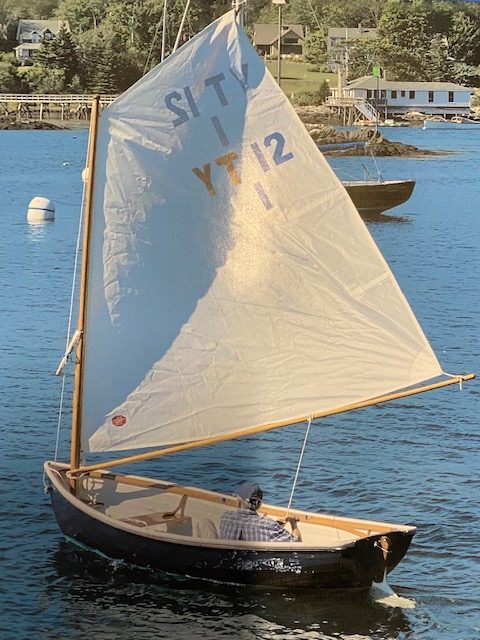 This classic fiberglass 12 foot Herreshoff-designed yacht tender was built by the John Williams Boat Company in the 1970s and has been meticulously maintained and recently overhauled by her current owner. She has a Flag Blue hull, green bottom paint, white gelcoat interior, varnished mahogany seats, oak rails with canvas gunwale guard and two rowing stations. Comes equipped with sailing spars, centerboard, sail, canvas boat cover and varnished Shaw & Tenney oars. Beautiful condition and sure to bring endless enjoyment to its new owner. $13,500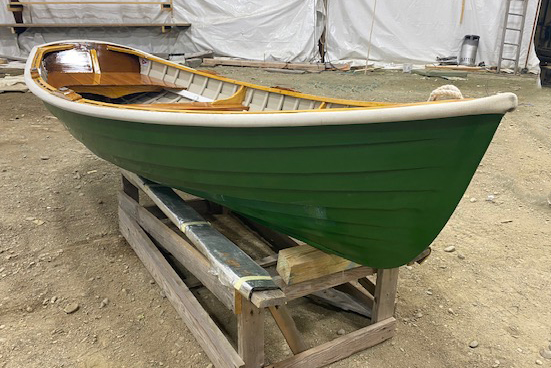 Designed and built by the late Steve Spurling of Southwest Harbor, Maine, this beautifully built handcrafted 2004 cedar on oak yacht tender includes varnished Shaw & Tenney oars and bronze oar locks. $9,800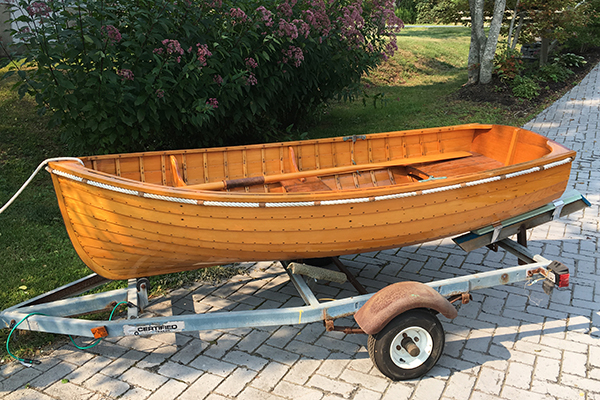 This gorgeous tender was built in 1936 by the Lyman Boat Company and has been lovingly maintained by the same family its entire life. Trailer, oars, and cover included. $16,500
Built in 2000, this 9 ft Steve Spurling cedar on oak yacht tender includes varnished Shaw & Tenney oars and bronze oar locks. $6,200
Visit our Brokerage page for more listings.
Yard News
During the summer of 2022, we completed the refit on LE SAG, a 1952 Palmer Scott 23 built in New Bedford, Massachusetts. The refit included a new engine, new hull Awlgrip, rebuilt cockpit platform, new cockpit and weather deck paint, new electrical systems, rebuilt windshield and cockpit seating, new shaft and propeller, new toe and rub rails, and new bottom paint.
After a chilly early winter sea trial, she was hauled, delivered and donated to the Sail Power and Steam Museum in Rockland, Maine in December 2022. We are pleased that they will be using this as a work boat. 

We're Hiring!
We currently have three full-time, year-round positions open. We offer competitive pay, paid time off, paid holidays, 401k retirement plan with matching contributions, health insurance, life insurance and paid training.
View our job openings on our Employment page.